Gun Mayhem Original
Prepare for a high-octane shooting experience like no other in the thrilling game, Gun Mayhem! Developed by Kevin Gu, this game thrusts players into intense battles where strategic shooting skills are the key to victory. Your mission? To annihilate all enemies that stand in your way with relentless firepower and cunning tactics!
Gun Mayhem Original is an exhilarating shooting game that challenges you to prove your worth on the battlefield. As a player, you'll be tasked with obliterating enemies using an array of weapons, tactical maneuvers, and an unyielding determination to come out on top.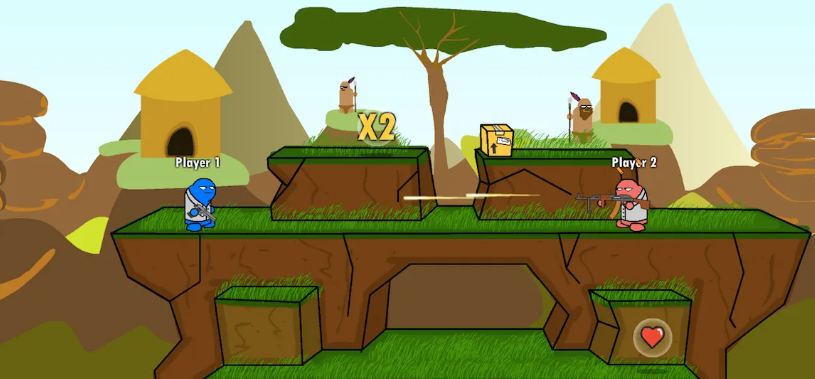 How to Play:
Objective: Your ultimate goal is to eliminate all adversaries at each level to secure victory.
Intense Battles: Engage in fast-paced battles where precision, quick reflexes, and strategic positioning are paramount.
Weapon Variety: Access an arsenal of powerful weapons, each with its own unique characteristics and advantages.
Map Navigation: Maneuver through dynamic and ever-changing environments, utilizing obstacles and terrain to your advantage.
Single and Multiplayer Modes: Challenge AI-controlled opponents in single-player mode or test your skills against friends or online opponents in multiplayer mode.
Game Features:
Explosive Action: Immerse yourself in action-packed battles that require both skill and strategy to triumph.
Varied Weapons: Choose from a diverse range of weapons, from firearms to explosives, ensuring thrilling combat scenarios.
Dynamic Maps: Navigate through dynamic maps that add an extra layer of complexity to each battle.
Customization: Customize your character's appearance, enabling you to stand out in the heat of battle.
Single and Multiplayer Modes: Play against AI opponents in single-player mode or challenge friends and players worldwide in multiplayer mode.
Embrace the Mayhem:
Gun Mayhem brings an intense and captivating shooting experience to your screen. As you face off against enemies and competitors, your shooting skills, adaptability, and tactical acumen will be put to the test. Can you rise above the chaos, outsmart your opponents, and establish dominance on the battlefield?
Are You Ready to Unleash Mayhem?
Whether you're a sharpshooting enthusiast or a fan of strategic battles, Gun Mayhem offers an adrenaline-fueled gaming experience that will keep you on the edge of your seat. With explosive battles, a variety of weapons, and dynamic environments, Gun Mayhem is your ticket to thrilling shooting action. It's time to lock and load, take aim, and let the mayhem begin!
Instructions
Use mouse
Categories & Tags