Zombie Mission 12
Zombie Mission 12 takes players on an exciting and action-packed adventure in the Wild West, where two heroic characters continue their mission of eradicating zombies. With 19 challenging levels and two distinct game modes, this installment in the Zombie Mission series offers an immersive and engaging gaming experience.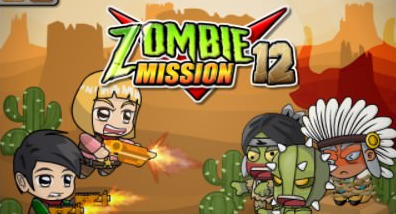 As players control the two heroes, they must navigate through a perilous landscape filled with obstacles and hordes of zombies. The mission involves not only defeating the undead but also rescuing hostages and collecting valuable coins along the way. To add an extra layer of excitement and strategy, the heroes can count on the support of drones and robot horses as they progress through the levels.
The game's dynamic gameplay, cooperative elements, and variety of challenges make Zombie Mission 12 a thrilling and addictive gaming experience. Players can choose their preferred game mode and team up with a friend or tackle the mission solo. Whether you're a fan of zombie-themed action games or enjoy cooperative play, Zombie Mission 12 offers an opportunity to test your skills and save the Wild West from the zombie menace. So, lock and load, and get ready to take on the undead in this thrilling adventure!
Instructions
Use mouse
Categories & Tags